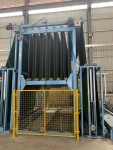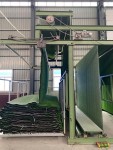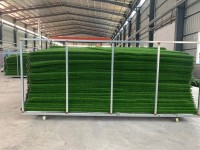 Ebuy (China) co., LTD. Is a research and development many kinds of professional artificial lawn manufacturing company, professional research, production, sales, design and installation of artificial turf, applied to different types of sports fields and greening, such as football, tennis courts, and golf will be green, garden, roof, balcony.
The product main business personage provides the authorization to stick the brand production, for the factory the matching processing combination, the high quality straw silk wholesale, for satisfies the customer demand the omni-bearing service.
At present, we introduce a number of 4-5 meters wide door width tufting machine, a number of sets of styrene butadiene and PU80 meters full gum composite line, a number of high quality grass fiber combination equipment.
Sophisticated equipment and high-end dozens of hearts and foreign management system, so that customers enjoy the domestic high quality price.
In addition, Our products have passed ISO9001, ISO14001 and SGS non-heavy metal, ultraviolet, flame retardant test report.
Meanwhile, FIFA is conducting product testing and field testing.




EBUY (CHINA) is a leader in China's packaging product industry, committed to the research and development and manufacturing of woven bag packaging and plastic packaging.
Through nearly 15years of honest operation and accumulation, the company is committed to the research and manufac-ture of woven bag packaging and plastic packaging, and creates a win-win situation with partners.Professional productionequipment, first-class processing technology, standardized product production requirements.
Cooperating with many foreign companies, the company has a registered capital of 4.5 million yuan, covers an area of15,000 square meters, and has 100 professional processing and production personnel.The company's main prod-ucts:Bluk bag,Hgh-quality woven bags, Food-grade plastic packaging bags,AD Star bags, Weed Mat, FIBC and many otherproducts.EBUY(CHINA)CO., LTD.warmly welcomes friends from all over the world for win-win cooperation.


We will be in line with the purpose of transfer, professional, focus, always pursue the right of the customer first, let us work with you to create a better tomorrow.